Choosing a style and material for your property's fence can be a daunting task; with such a wide range of options available, it can be difficult to decide. Here we'll discuss some of the various styles of fences you might consider and where you can find the fencing materials to build them once you choose.
Consider Fence Utility
When starting a fencing project, the first thing to consider is what you need the fence for. Different types of fences are better for different tasks. For instance, if you need to build a fence to contain livestock, you'll want to go for a different style than if your fence is just decorative. Are you looking for privacy, security, or simply a decorative boundary?
Once you've determined its purpose, you can narrow down your options. If you're looking for privacy, a solid fence or one with closely spaced slats is a good choice. For security, opt for a taller fence with few openings. If you're just looking to define your property line, a picket fence or other low-profile option may be best.
Picket Fences
Picket fences are a classic fence type; they might be considered the standard wood fence. There's a solid chance that these are the first fence you think of. While they're less functional fencing than other styles, they're simple and nice to look at. This fencing type is often used to surround a yard or garden. It is traditionally made of wood and consists of vertical posts connected by horizontal boards. The spaces between the boards, known as pickets, are usually staggered in order to provide additional strength and stability.
Picket fences are typically short, no more than four feet high, which makes them ideal for defining boundaries without obstructing views. In addition to their practical applications, picket fences are also popular for their aesthetic value. They have long been associated with the American dream and they continue to be a popular choice for homeowners who want to add charm and curb appeal to their property.
Shadowbox Fences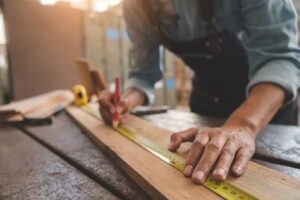 A shadowbox fence is a type of wood fence that features alternating panels of pickets on either side of the rail. This design helps to provide privacy while also allowing air and light to pass through. Shadowbox fences are typically built using pressure-treated lumber, which can help to resist rot and insect damage. The boards are attached to the rails with nails or screws, and the spaces between the pickets are often filled with a decorative material such as lattice or wire mesh.
Shadowbox fences can be stained or painted to match the surrounding architecture, and you can customize them to fit any specific needs. A shadowbox fence may be the perfect solution, whether you're looking for added privacy or simply hoping to enhance your curb appeal.
Post-and-Rail Fences
A post-and-rail fence is a type of fencing typically used for enclosing pastureland or large gardens. It is made up of posts that are spaced evenly apart and connected by horizontal rails. They are relatively easy to construct and can be adapted to fit a variety of landscapes. While they're typically used in agricultural fencing, they can also add a rustic touch to suburban homes.
Post-and-rail fences come in a variety of styles, so it is important to choose one that is appropriate for the desired look and feel of the property. Be sure to explore your options!
Basket-Weave Fences
If you're looking for a more unique style, you might consider a basket weave fence. These fences are made by weaving strips of wood around vertical posts. Basketweave fences are often made from cedar or redwood and can add a beautiful, rustic look to your property. Keep in mind that because of their more elaborate design, they are more expensive to build and require a bit more upkeep than a simpler design.
This type works excellently as a privacy fence due to the closely woven fencing material. With this combination of privacy and style, it's an excellent choice.
Which Fencing Material Should You Use?
Once you've decided on a style, you'll also need to consider which type of material to use for your fence. Wood is a classic choice that can be stained or painted to match your home's exterior and gives your home a unique and natural look. When it comes to fencing, you really can't go wrong with lumber. Wood fencing is a staple of many neighborhoods for a reason; it's an affordable and beautiful material that can be made to suit any style of home.
When you're looking for a beautiful custom fence, ask your local building supply center about the types of lumber they stock. They'll be able to advise you on the best lumber to use for your unique fencing project, how you can maintain it, and how much of it you'll need. Lumber needs a certain amount of maintenance, but it's well worth it for a durable, long-lasting fence material.
Come Visit Shur-Way Building Centers!
No matter what style of fencing you choose for your project, Shur-Way can help you find the lumber you need to get it done. We can also help you connect with reputable fencing contractors to get your custom-built fence looking its best. No matter how big your project is or what type of fence you want to build, we offer a range of quality fence materials to suit your needs.
That's what sets us apart from big box stores – we strive to always offer the highest quality materials at reasonable prices. Not only that, we offer friendly and professional service to all of our customers. When you need quality fencing materials and reliable fence installation services, we can help you find both. Pay us a visit, take a look around our site, or give us a call today!