Come to Shur-Way Building Centers for Building Supplies in Vancouver!
7124 NE St Johns Rd
Vancouver, WA 98665
---
Phone: (360) 693-4737
Fax: 360-695-0236
---
Monday – Friday 7:30am-5:30pm
Saturdays 8:00am-4:00pm
Sundays Closed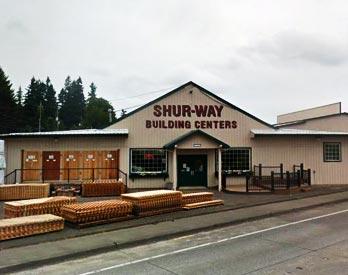 The friendly people of Vancouver WA have always had a difficult time telling people where they're from. It's become so much of a problem that a local designer created a shirt reading "Vancouver NOT B.C., Washington NOT  D.C., Clark County NOT Nevada, Near Portland, OR NOT Maine". Residents of "America's Vancouver" don't like always getting their much smaller town mixed up with the major British Columbia metropolis. Founded decades before Canada's city of the same time, Vancouver, WA has its own features to boast about, such as the distinguished ACEN accredited Nursing Program at Clark College and famous upscale service at Cinetopia Theater .
A couple of blocks away, citizens and visitors alike enjoy desserts and goodies at The 'Couve's famous Ice Cream Renaissance or Bleu Door Bakery. History buffs can take the famous lantern tour at Fort Vancouver and view the old structures, many with the original pieces. Using that newfound inspiration, be sure to check out Shur-Way Building Centers to pick up the building supplies for your Fort-themed outdoor living project or any other design you have in mind.
We'll help you find the supplies you need
Know exactly what you want? Then make a quick trip to the lumber yard and we'll help load up your supplies. Not sure what you're looking for? We can help! We'll guide you through the process and make sure you get everything you need for your deck, garden bed, fence, and more! We're ready for whatever project you have with materials such as:
Building Supplies
And more!
Our local, experienced staff will treat you like family
With over 30 years of experience, our family-run business has helped many people bring their design to life and can do the same for you. When you come to us, we'll make sure to help you however we can and can even help you find a local, reliable contractor to help you with the job. So give us a call, fill out our contact form, or stop by today!