Building Materials Store Vancouver WA
Your Local Building Supply Center in Vancouver WA and Portland OR Metro Area
Creating that perfect addition to your home is a great experience. Customizing your house gives you a true feeling of ownership, and seeing your own flair put into the place you live is satisfaction like no other. Once you decide to make the addition, you want to make sure your new structure is sturdy, stable, and strong. Using cheap, low-quality materials is a risk not worth taking, as your project could get ruined quickly and require costly repairs or even an entire replacement. Shur-Way Building Centers carries top-of-the-line materials and will help you make your design come to life!
Need supplies or expert advice on your next building project?
What's your project?
As specialists in outdoor living and remodeling, we have the parts you need for your particular project. Want to build a new deck? With the largest selection of composite decking in the area, you can use this new, long-lasting material or build it with our variety of tried and true woods. But we carry more than just decking materials and lumber. Some of project areas include:
Decking and deck materials
Several kinds of hardwoods
Siding materials
Hidden stairways
Shed kits
And much much more!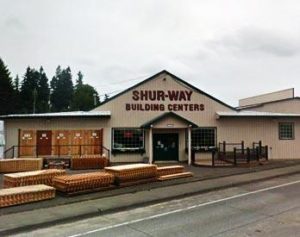 Looking for help?
If you have a building project in mind but lack the skills or experience to do it on your own, we can help connect you up with a local contractor for your specific job. Want someone to put in your new floor from start to finish? We'll help find that perfect person. Looking for more of a general handyman? We know plenty of them as well. As a local business, we pride ourselves on being connected to the community and always keep a selection of business cards from local contractors that can help you if you'd like.
Why choose us for building supplies?
Besides our numerous hardwood choices and unsurpassed selection of "off-grade" plywood, we're a family-run business that focuses on unbeatable service with competitive pricing. Our small staff treats you like one us and have the knowledge and experience to make informed suggestions based on what has been successful for themselves and past clients. Along with our raw materials, we also carry high-quality tools, fasteners, and treatments to see that your finished project lasts for years to come.
---
Contact Your Local Building Materials Store!
Give us a call, fill out our contact form, or simply stop by during business hours for our signature combination of unmatched service and excellent value at a great price!