Searching for roofing materials in Portland?
Your roof is one of the most important parts of your house. It's the protector of everything within, guarding against the elements, bugs, and intruders. Because it's such a crucial part of your home, shed, or other structure, it's important to do everything you can to make it last. And starting with high-quality materials is a good start. If you're looking for roofing in materials in Portland that are made to last in the Pacific Northwest, come to Shur-Way Building Center. We have a variety of different roofing materials in several different colors so you can have the perfect topper for any structure, from a mansion to a small doghouse!
Listen to the sound of the rain with metal roofs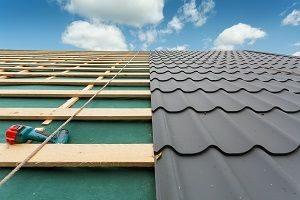 Metal doesn't break down easily, especially when treated to protect against rust, one of the few things that can harm it. Metal roofs can easily last for several decades if put in correctly, and won't break or budge under heavy wind or rainstorms. They also naturally reflect sunlight, reducing the temperature during the hot summer and helping to lower your energy bills. And in the rare case of a fire getting out of hand, they're resistant and won't ignite! We have several styles available including skyline and corrugated in dozens of color options and can custom order the exact type you need so you won't be disappointed.
Try composition roofing manufacturer's seconds to save money
Composition roofing are shingles that are often made of fiberglass with asphalt and other minerals. We only carry composition roofing that are manufacturer's seconds in order to give you the best value around.
Many of these are simply not the color the manufacturer intended and are sold to us at a steep discount. We pass that savings straight down to you.
Most of our composition roofing was discarded for minor aesthetic issues. The size or weight may be slightly off, but they still function properly.
Although these shingles are seconds, that doesn't mean that they're no good. We don't buy shingles that are physically damaged and won't do their job.
---
Choose us for local roofing materials in Portland
Our helpful and friendly staff is standing by to help!